Neat Business Card Scanner
Got a stack of business cards from your last business trip? It's certainly no fun to spend your time manually typing them in to Outlook, so the idea of a dedicated scanner for business cards sure sounds tempting.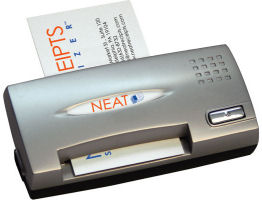 And the new NeatReceipts Neat Business Cards scanner is even more attractive at $199 -- it scans directly into Outlook and ACT, and it's small enough to bring along on your business trips, so you can stay organized as you go instead of having to face a deck of cards when you finally get back to your home base.

Right out of the box, the Neat Business Cards scanner was amazingly accurate with a range of business card styles, both scanning the text fields and then assigning them to the corresponding database fields. It even correctly distinguished telephone, fax, and other phone numbers printed in different styles (parens, dashes, periods), and identified with wildly different marks. And it handled some cards which were printed diagonally, successfully finding fields printed in both black on white and white on black text.
Of course, the scanning is not perfect, and you should verify each card for mis-assigned fields (like phone extensions) and incorrect or missing letters or digits (i.e., at the end of a long number).
The software did struggle with some company information and business titles that were not clearly structured on the page -- it still scanned the text as additional text, which then needed to be manually moved to the proper field. And there were some odd features that I could work around (see below).
In my workflow, I scanned a group of cards into the Neat Business Cards database, and then used the Sync with Outlook option to bring them into Outlook. Unfortunately, the sync has no mechanism to warn if existing records are found (i.e., matched on email address) -- the new fields will be updated into the existing Outlook record (although the software does report counts of records added and updated).
You also can export records from the Neat Business Cards database to RTF (Word), CSV (Excel), PDF, and other formats to print or share.

Find the Neat Business Cards scanner on Amazon.com

Continue reading "Neat Business Card Scanner" »