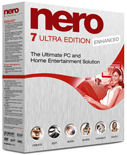 Nero has continued to upgrade and expand its Nero 7 suite of tools for working with CD/DVD discs and digital media files. However, it's sometimes hard to keep track of what's going on with the product, since Nero confusingly does not use version numbers to identify its releases. By now, the current product release is identified by appending several superlatives to become Nero 7 Ultra Edition ENHANCED.

Nero is particularly strong with its core CD/DVD tools -- especially with disc burning using Nero Burning ROM, testing and understanding discs and drives with Nero ToolKit, and video and DVD conversion with Nero Recode.
And, like the Roxio Easy Media Creator (EMC) suite, Nero has expanded its suite to provide a broad collection of tools for handing digital media -- from data backup, to photo and audio editing, to video editing and DVD authoring. Plus, these suites offer tools to organize and manage all your media files, and share them across your home network. However, as with Roxio EMC, the Nero suite grown so large (Nero 7 is up to some 20 applications) that it includes a Nero StartSmart mini-application to help you figure out which tool to use to carry out a particular task.
The latest ENHANCED version adds Windows Vista support and additional high-def video formats, with editing and playback of AVCHD video and Blu-ray Disc (BD-AV), and enhanced Xbox 360 streaming capabilities. (The HD DVD Plug-In adds support for HD DVD playback for $24.99.)
If you want all-in-one collection of digital media tools, the Roxio Easy Media Creator suite has a broader collection of more powerful tools, including full VideoWave and PhotoSuite applications for video and audio editing. And Roxio has worked diligently to bring a friendly and consistent user interface to its collection of applications.
But the Nero 7 suite shines with its core capabilities and technology, including solid disc burning, media file format conversion, and support for high-def video, surround sound, and HD disc formats. So try it out.
Nero 7 Ultra Edition ENHANCED is available at retail for $99.99, and via download for $79.99. The additional HD-DVD plug-in costs $24.99. Nero offers free updates for users of previous versions of Nero 7. You also can download a 15-day trial version (173.57 MB).
See the DVD Authoring Software Gallery for more on DVD tools.
See my earlier article on Roxio Easy Media Creator 9

Find Nero 7 Ultra Edition ENHANCED on Amazon.com

Find Roxio Easy Media Creator 9 on Amazon.com
Details on the applications in the Nero 7 suite below ...
The Nero 7 Ultra Edition ENHANCED suite includes tools for organizing and managing digital media files, sharing media over home networks, CD/DVD data burning, photo editing and effects, audio recording and editing, and video editing and DVD authoring.
Beyond the core disc and digital media tools, the Nero 7 suite includes some unique bonus applications, such as Nero Scratchbox to mix and scratch music on virtual turntables like a DJ, Nero SoundBox with text to speech and surround sound atmospheres, Nero ImageDrive to create virtual disc drives for fast access to material on CD or DVD, and Nero Sipps for free Voice-Over-IP phone calls (also a free download).
The Nero 7 suite includes Nero PhotoShow Express for photo editing. Nero offers an upgrade to the full new Nero PhotoShow Deluxe 5 to manage and edit photos and videos and create PhotoShows with music, captions and effects.
Applications in the Nero 7 suite:
-- Media Management
Nero StartSmart 3 - One click project launcher

Nero StartSmart
Nero Home - Media manager to access digital media over in-home network
TV, DVD, music and video streaming, recording and playback
Nero Scout / Nero Search - Index, organize and browse files by media type
Index files on your computer and the Internet, Microsoft Outlook
-- Home Networking
Nero MediaHome - Share media across home network with UPnP streaming
UPnP (Universal Plug and Play) AV Media Server to compatible devices
Access media files Nero MediaHome Network, play in Nero ShowTime
Xbox 360 streaming
Internet services including Web TV, Web Radio, audio-, video-, and imagecasts
Nero Mobile - Media center for mobile devices
Mobile phones, portable media players (PMPs), and PDAs
Nero Sipps - VoIP for free PC-to-PC calling
Two lines, 3-person conferencing, sync with Microsoft Outlook
-- CD/DVD Data
Nero Express 7 - Easy interface CD/DVD burning
Simple design for small jobs done quickly
Nero Burning ROM 7 - Expert CD/DVD burning
Support DVD Dual Layer and Blu-ray Disc data recording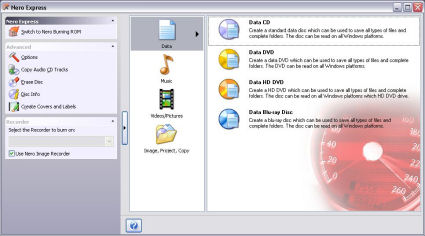 Nero Express
Nero ToolKit - CD/DVD utility suite
Disc and drive information, benchmarking and testing
Nero BackItUp 2 - Complete backup solution
Creates bootable CDs and DVDs, can run in background as you work
InCD 5 - Drag-and-drop packet writing to disc
CD, DVD, HD DVD-R, Blu-ray Disc
Nero Cover Designer 2 - CD/DVD label and case design
Nero ImageDrive 3 - CD and DVD virtual drives
Up to two virtual disc drives, for fast access
Nero DiscCopy - Vista gadget, copy disc with one click
-- Photo
Nero PhotoSnap - Photo editing and effects
Nero PhotoShow Express - Photo management, editing, sharing
Upgrade to Nero PhotoShow Deluxe 4 for full and unlimited functionality
-- Audio
Nero Wave Editor 3 - Audio editing/ recording
Professional editing and effects. Surround sound editing up to 7.1 channels
Nero SoundTrax 2 - Professional recording, editing and performance made easy
Music interfaces to create, edit, mix and scratch music of any type
Nero Scratchbox - mix and scratch on virtual turntables and mixer like a DJ
Nero SoundBox - Beat builder
Incorporate beats, sound sequences and melodies into Nero SoundTrax 2 projects
Convert text to speech
Generate real world surround sound atmospheres such as stadium, nature effects
-- Video
Nero ShowTime 3 - Simple media player for DVD and multimedia files
Nero Vision 4 - Video capturing, editing and DVD burning software
Supports HD / HDV video, 5.1 Audio surround tracks
Nero Recode 2 - Video conversion and compression
Supports iPod, H.264/AVC High-Profile HD Video
Fast DVD 9 to 5 (double- to single-layer)
Convert from 5.1 Dolby Digital Surround