What *is* that song? It's so familiar -- dah, dah, dah, dum, de, dum ... But I can't quite get it. So frustrating!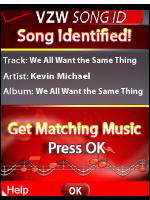 Never fear, your phone can recognize the music for you: Just hold your handset up to the speaker for 10 seconds, wait a beat, and then your phone displays the song title, artist, and even album that you are listening to. It can also e-mail you the information to look up later. Or you can buy and download songs immediately.
This magic is V CAST Song ID from Verizon Wireless -- released as a free download in mid-May for selected V CAST Music-enabled phones.


(The initial phones are the LG Chocolate, enV, VX8700, and VX9400, and the Samsung SCH-u620.)
The music is identified by matching a "fingerprint" from a recorded clip against a database of songs. The Song ID application on the phone prompts you to hold the handset near a music source for ten seconds (like the car radio or stereo speaker), and then uploads it to be matched. In another ten seconds or so the result is sent back to the phone to display the song information.
Note that Song ID matches against a database of specific pre-recorded songs, performed by a specific artist, and released on a specific album. You can't hum a tune or sing in the shower and expect it to find a match.
Of course, Verizon's motivation for making this cool application available for free is to encourage you to then go ahead and buy and download the music.
You can go back to your PC, check your e-mail, and buy songs at the V CAST Music Store for 99 cents each -- and then download them to your phone.
Or for immediate gratification, you can buy a full-track download directly on the phone for $1.99 per song -- the double price also includes the option to download a second full-quality version of the song from the V CAST Music store on your PC.


More below on trying out Song ID in the car and in the office.

Verizon reports that V CAST Song ID can identify more than four million songs, jazz, rock to alternative, latin to house.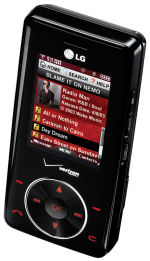 So I tried Song ID out on the LG Chocolate phone, surfing FM stations in the car, and listening to ripped CDs on the computer in my office.
In the car, Song ID worked well with the phone held right up to the radio speaker. It even worked with some background noise, including wind from the windows, normal conversation (and singing along with the music), and even drumming the dashboard. It did have problems when the volume was turned low along with loud talking in the background.
And in my office, I just held up the phone to listen to the music playing in the room. Song ID continued to work well, even with the television playing quietly in the background.


In my testing Song ID was totally successful in finding a diverse range of music: oldies, holiday, pop, rock, new age, bluegrass, country, funk, jazz, and soundtracks.
Some of these included:
- "Troubled Over You" - Spade Cooley, "It's The Most Wonderful Time Of The Year" - Andy Williams
- "Oh Girl" - The Chi-Lites, "Time Of The Season" - The Zombies
- "Dream On" - Aerosmith, "Invitation" - Hot Tuna
- "Ice Dance" - Edward Scissorhands, "House Made Of Dawn Light" - Douglas Spotted Eagle
- "Ode To A Butterfly" - Nickel Creek, "God Blessed Texas" - Little Texas
- "Low Rider" - War, "I Can See Clearly Now" - Jimmy Cliff
- "Morning Dance" - Spyro Gyra, "Morning" - George Benson & Al Jarreau
- "Friend Like Me" - Robin Williams
However, when sampling my CD library on my computer, Song ID did not identify any of the classical albums or Gilbert and Sullivan tracks I tried, including music purchased from the V CAST Music store. However, it did recognize a track from Amadeus, so it's likely an issue of the song database, and not the style of music.
The only mistake I saw happened when playing "Which Way Does the River Run" by Lennie Gallant, a singer/songwriter from Halifax, Canada -- which was identified once as "Coming In Going Out" by Golden Earring, although other tests reported no match.
V CAST Song ID is available as a free download in the Get It Now virtual store. It's a little tricky to find: from your phone in Get It Now, under Music and Tones, go to Get New Ringtones, Get New Application, and select V CAST Song ID.