If you've ever found yourself stretching too far for a great shot over a crowd, or getting dirty trying to shoot a hard-to-reach area, then the Quik Pod from Fromm Works can offer you relief, and for under $30.
The Quik Pod is light but sturdy telescoping rod that extends out to 18 inches, and then contracts to 7 1/2 inches for storage. Just attach your camera to the standard tripod socket (up to 16 ounces of weight), adjust the angle as desired (up to 90 degrees), and position the camera for the photo. You can shoot photos by setting the self-timer on your camera, or use the Quik Pod to shoot motion video with a wider range of views.
Now you can reach where you need to in order to get the shot -- up, down, around, over, and under. And you can avoid asking strangers to take your picture by pointing the camera back towards you for a self-portrait (there's even a tiny mirror to help position yourself in the frame).


The Quik Pod weighs around 3 1/2 ounces, and comes with a removable belt clip, hiking clip, and wrist strap -- plus a carry bag, for $24.95.
Or step up to the Quik Pod Pro for $29.95, which adds an adjustable tripod adapter that can be screwed into the base of the Quik Pod to turn it into a freestanding pole -- also useful for holding a flash or light source.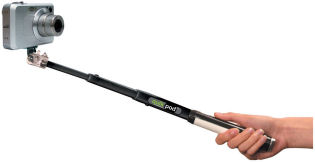 Fromm Works states that the Quik Pod is manufactured using high quality polycarbonate and aluminum components for strength and portability, and therefore can be used in all weather conditions, even for underwater photography in salt water.
A suction cup base accessory and magnetic base for metallic surfaces also are listed to be available soon for $20 each.

Look up the Quik Pod extendable handheld tripod on Amazon.com.