Flash storage is just exploding -- with capacity increasing and prices falling. Flash enables tiny devices, from portable music and media players to USB "thumb" drives -- now busting into multiple gigabytes of storage at affordable prices.
USB drives come in a wonderful profusion of sizes and shapes, from amazingly tiny fingernail sizes, to bulkier and more rugged to endure the hazards of business travel, to blinged-out fashion accessories from USB knives to Disney characters.
Lots of companies are entering the flash storage -- For example, SanDisk and Kingston are expanding from their core memory business; Verbatim, Imation, and Memorex from optical and other storage media; and Sony from consumer electronics.
Another company that is trying something different with USB drives is RITEK Corporation, with its RiDATA brand of storage and accessories (also known as Advanced Media Inc., the American subsidiary).
The RiDATA USB flash drives are exploring new ideas in packing up flash memory in fun and interesting designs -- interesting concepts like the USB laser pointer, choices of alternative designs like rotating and retractable USB connectors, and whimsical shapes like the Monkey and Elephant.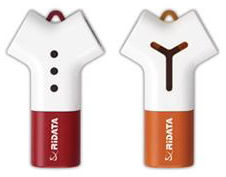 But if storage is good, then more storage is better, so why stop at a single USB drive? Instead, RiDATA offers multi-port designs like this Yego EZdrive so you can chain together multiple drives, or even use a drive as a hub to plug in additional drives.


Current prices for these products are approximately: 1 GB $14, 2 GB $23, 4 GB $38

RiDATA Multi-Port Designs
The RiDATA Character USB flash drives come in "whimsical" shapes, including Uniform, Book, Monkey, Elephant, and Puzzle. And they sport two additional USB ports, so you can both access your storage and plug in other additional USB devices, including more USB drives or a USB mouse.
The RiDATA Yego EZdrive is a more sedate design, in a "Y" shape with the main connector at the base and two additional USB hubs.

RiDATA EZ Drive Designs
The RiDATA EZ Drive series includes a Funky design in various colors, Boy and Girl design with blue and red LED outlines of a boy and girl on each side, Mini Spin design with colored covers rotates up out from the cover for easy access, Funky design with colorful retractable USB plug, and a Knife design with translucent housing (perhaps not so good on a plane),

RiDATA EZ Drive designs: Mini Spin, Boy and Girl, Knife, Funky
The EZ Drive Laser Pointer includes a built-in class II laser pointer, and will make a 0.4-inch spot from approximately 11 feet.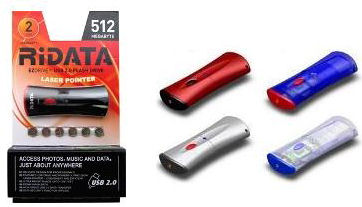 The EZ Drive USB flash drives support USB 2.0 with a full 480 Mbps transfer rate, and are available in capacities ranging from 128 MB to 8 GB.
Some of these drives also support the new Windows Vista ReadyBoost feature that uses a removable flash memory device like a USB thumb drive to improve system performance by accessing data from flash memory faster than hard disk.
See more in the Portable Storage Gallery, under USB Hard Disk Pocket Drives.
Related postings:
- Portable Pocket Drives Reach 12 GB -- Memorex and Verbatim pocket drives with tiny hard drives.
- Tiny USB Drives -- Sony Micro Vault Tiny and Kingston DataTraveler Mini

Check out RiDATA USB hub drives on Amazon.com.