For TV on your PC, the Pinnacle PCTV line has been updated to now support HDTV. Yes, you can watch over-the-air HDTV on your computer with the new Pinnacle PCTV HD Pro Stick.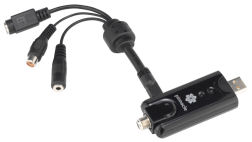 This is not a PCI board or a big external device, it's just a small stick (around 1 1/4 x 2 3/4 inches), with a USB connector at one end and a TV antenna input (F-connector) at the other.
There's also an A/V adaptor cable with inputs for composite video (RCA), S-Video, and stereo audio (3.5mm headphone plug).
The product includes all the other parts you might need, with a telescopic antenna to set up near a window, and a USB extender cable to reach from your computer.
The PCTV HD Pro Stick uses the Pinnacle MediaCenter software to set up the available analog and digital channels, connect to the included remote control, and then watch and record TV and listen to Internet radio. And it includes Pinnacle Studio QuickStart to edit your captured video and recordings.
See full article: Pinnacle PCTV HD Pro Stick