With the impending arrival of the new versions of Adobe's Production suite as part of Adobe Creative Suite 3 -- featuring Premiere Pro CS3 and After Effects CS3 Professional -- this is a good time to think about brushing up on your skills with these applications.
(See Adobe Creative Suite 3: Summary for an overview of the applications, suites, and pricing.)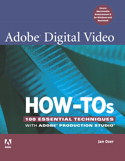 Jan Ozer's recent book, Adobe Digital Video How-Tos: 100 Essential Techniques with Adobe Production Studio, provides a great resource for new ideas and more efficient workflow with these applications. This skips past all the obvious stuff -- like the basics of opening files, working on the timeline, and exporting in multiple formats -- to focus on tips for taking better advantage of these applications for a more efficient workflow and better results.

In particular, Ozer is great at exploring multiple ways of achieving specific results like text animation, chroma keying, motion tracking, and stabilization -- moving from quick fixes to more custom solutions, and from Premiere Pro to After Effects.
Along the way, Ozer includes sidebar notes to explain some of the fundamentals that you may have missed. And he speaks in a friendly tone, for example explaining in "Five Things You Don't Know About Premiere Pro Transitions" that he's actually provided 11 concepts, but he's only promising 5 since he assumes that "you know at least several of them."
Ozer, of course, is the ridiculously prolific author of multiple books and regular articles in PC Magazine and EventDV. He also teaches courses in digital video production, and keeps his hands dirty and his mind in the game by shooting and producing DVDs for local musicians.

Order from Amazon.com


Contents and more details below ...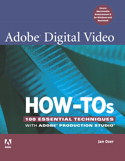 Adobe Digital Video How-Tos:

100 Essential Techniques with Adobe Production Studio
by Jan Ozer

Adobe Press / Peachpit (Oct. 25, 2006), paperback, 256 pages
ISBN-10: 0321473817
$29 ($21.87 at Amazon)


Contents
1. Getting Started
- Efficient workflow: Project settings and presets
- Workspace and multiple monitors
2. Editing Preliminaries
- Capture issues
- Efficient editing with storyboarding, targeting tracks, three- and four-point edits
3. Using Premiere Pro and After Effects Together
- Moving elements and projects between Premiere Pro and After Effects
- Dynamic Link
4. Perfecting Video Quality
- Color and brightness correction, using scopes
- Stabilization: Premiere Pro to After Effects
- Efficient effects: presets

5. Multi-Camera Production in Premiere Pro
- "The Tao of Multi-Camera Editing"
- Synching, choosing angles, editing, overlays
- Multi-camera and HDV
6. Applying Cool Special Effects
- Overlays, keyframes, pincture-in-picture
- Keys and mattes and animation: Premiere Pro to After Effects
- Motion tracking

7. Transitions and Titles
- "Five Things You Don't Know About Premiere Pro Transitions"
- Animated titles: Premiere Pro to After Effects
8. Creating Slide Shows in Premiere Pro
- Managing images and still frames, slideshows
- Photoshop to Premiere Pro
9. Working with Audio
- Cleaning audio: Premiere Pro to Audition
- (Still applies to the new Adobe Soundbooth)
10. Sharing, Rendering, and Encoding Your Projects
- Reviewing with Adobe Clip Notes
- Exporting: Adobe Media Encoder, Flash, deinterlacing
- Rendering and presets in After Effects
11. DVD Production in Premiere Pro
- Export to DVD: Menu-less and with menus
- Markers and chapter points: Premiere Pro to Encore DVD
12. Producing DVDs in Encore DVD
- Manual control: Buttons, menus, navigation, playlists
- (Encore is now bundled with Premiere Pro)
Appendix: Adobe Production Studio Integration Options
- Import, Edit Original, Dynamic Link between applications
- Photoshop, Illustrator, Premiere Pro, After Effects, Encore DVD, Audition