I've been having a lot of fun trying out portable power solutions for small devices like cell phones and MP3 players -- including the MDI kwikSynCh USB chargers for powering up from USB, and the Turbo Charge cell phone charger to top off a phone from a AA battery.
But what is a road warrior to do when you assemble all your devices -- from smaller mobile phones and media players to larger cameras and notebook computers. And how can you be sure you can charge wherever you go -- from wall power, but also in cars and on airplanes.
For this you need to pull out the heavy machinery, like the MFUEL World Pak 120.
This product includes:
- a base charger unit with 120 watts of power
- with adaptors to plug into AC wall outlets, DC car/boat cigarette lighters, and airplane jacks
- plus a World Jack adapter that transforms to fit four styles of wall outlets in over 120 countries worldwide
- plus a car charger adaptor to power devices that fit car cigarette holders
- plus two power cords to simultaneously feed both high and low power devices
- along with 27 Hot Tips and accessories that should fit more than 90% of current high and low power electronic devices.
And as a bonus, the World Pak 120 includes USB and Ethernet Hot Tips that allow the low power cable to be used as a standard USB or networking cable. And MFUEL includes a surge protection guarantee that protects your compatible portable electronics from unstable power. And there's a travel bag to fit this all into.
The World Pak 120 unit is approximately 5 1/2 x 2 7/8 x 1 1/4 inches and 720 grams. When plugged in, the MFUEL logo glows, and blue LEDs indicate the voltage being supplied on the high and low power lines.
The World Pak 120 is priced at $249.99 at the top of the MFUEL product line, which includes a variety of options for different power levels and sources, as described below.
See more in the Portable Power Accessories Gallery
The idea with the World Pak 120 is that you can charge almost any such device, almost anywhere you happen to be -- Charge any notebook, portable DVD player, digital camera, camcorder, portable video game, iPod, MP3 player, PDA, or cell phone -- simultaneously, and from any power source.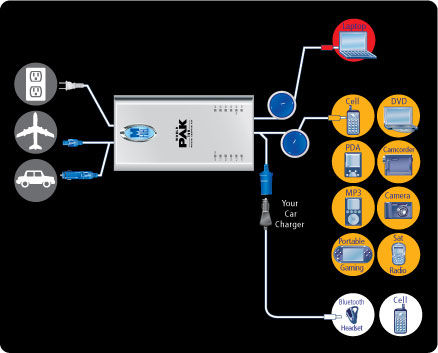 Chargers
The MFUEL charger product line is identified by three characteristics:
- power source (Wall, Auto, Air, World),
- supported devices (universal "Paks" with dual-outputs or more device-specific "Jacks"), and
- power level (wattage).
Sample MFUEL Chargers:
World Pak 120 $249
World Pak 100 $199
Wall Jack 100 $119
Wall Jack 18 / Car Jack 18 $79
Wall Jack 5 / Car Jack 5 $49


High / Low Power
The MFUEL product line is also color coded:
- white "Paks" for universal chargers (i.e., 100 to 120 watts),
- red for high-power adaptors (i.e., 70 watts or more for notebooks),
- yellow for low-power chargers (i.e., 18 watts or less for cell phones, media players, and even digital cameras, and camcorders).
The MFUEL power cords are flat, and spooled in a 2.5 inch diagonal "Power Puck," which extends to about 58 inches. The High Power is $29.95, and the Low Power is $39.95, including 2 Ethernet and 6 USB Hot Tips to serve as a retractable Ethernet cable or USB data transfer and charging cord (standard USB, extender, and mini).
All the MFUEL connectors, cables, and Hot Tips are color coded red and yellow for high and low power. MFUEL use a rectangular proprietary connector with 8 pins and a phone/network-like clip mechanism. The connectors have small ridges that prevent high-power items from plugging in to low-power plugs, and vice versa.
Hot Tips
The full scope of the MFUEL approach then comes from the array of Hot Tips available to connect your specific devices into this system.
MFUEL units typically come packaged with between 9 and 27 different tips depending on the major applications of the specific product. There are currently some 150 different Hot Tips available, spanning the range of:
- cell phones, PDA's, Bluetooth headsets,
- iPods, MP3 players,
- digital cameras, camcorders, satellite radios,
- portable DVD players, portable video games, portable GPS, and
- notebook computers.
Power Banks
Besides the chargers, MFUEL also has a line of Power Banks, i.e., batteries that use the same Hot Tips to power various devices even when you're on the go and can't plug in a charger.
Sample MFUEL Power Banks:
Portable Electronics ($199 for up to 65 hours of additional cell phone time)
Notebook ($299 for 10 hours)
Universal connectivity ($399 for 12 hours for notebooks, 100 hours for cell phones)