The HDV format (MPEG-2 HD video on DV tapes) has brought HD video to a much broader market -- with HDV camcorders for consumers down to around $1000. And for high-end video enthusiasts and event videographers who want a more professional unit, there's now a broad range of affordable choices in the $4000 to $10,000 range.
Here we'll focus in the Canon XH A1 HDV camcorder, which has a nice design that shows the broad range of features that are available in this price range. It's easily carried and yet packed with pro features, with 3 CCD sensors, 1080i resolution, and a 20X lens, and all for under $3999.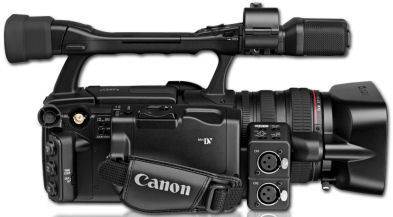 The XH A1 also has a twin, the XH G1, which adds Professional Jackpack that provides time code and HD-SDI output for $6949.
Canon also offers its Console Image Control and Storage software that provides remote control of camcorder functions and customization of its settings from a Windows computer through a FireWire cable.
And we'll take a quick look at Focus FireStore FS-C Portable Recorder that can record video direct to hard disk drive for fast access for editing without shuffling through tape.
See full article: Affordable HDV Pro Camcorders: Canon XH A1