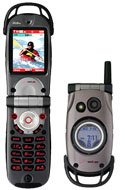 Here's something different to combine the rugged lifestyle with all those cool wireless phone services -- camera, mobile Internet, video and audio downloads, wireless navigation, and more -- the Verizon Wireless / Casio G'zOne Type-V rugged handset (pronounced "G-Z-one").
This is a fully-packed wireless phone with speakerphone and 2 megapixel camera, in a mil-spec case, water and shock and dust resistant, and designed to withstand temperatures over 140ºF and submersion in one meter of water.
The basic design of the G'zOne is a clamshell phone, a little thicker than slim phones at 5.3 ounces, and augmented with a bumper guard at the bottom. It also includes a stopwatch and LED flashlight on the outer face.
The G'zOne is available from Verizon for $99.99 (two-year contract). Take it along on your next adventure -- just be sure to stay in range of a cell tower, and check that the ports and battery area are securely closed before you try dunking it...
See more in the Mobile Communications Gallery, under Mobile Internet and Multimedia.