You would think that computer-based video surveillance would be a no-brainer -- just point the camera outside and have the computer alert you when it detects anything interesting. But it turns out that "understanding" activity in outdoor scenes is horrendously difficult for computers. The world is full of complex motion, from trees and leaves blowing in the wind, to dramatic lighting changes from clouds passing overhead and shadows popping into view, to birds or other wildlife flashing through the view.
As a result, simple motion detection with consumer cameras like the Creative Live! Wireless Internet Camera is best used to monitor static indoor scenes, and even professional intelligent video surveillance systems can generate many false and nuisance alarms.
Even worse, setting up such a system for a large site becomes a messy logistical undertaking, requiring installation of the cameras and associated runs of cabling, plus establishing what is essentially an IT data center for the video and computer equipment required to monitor and process all that video.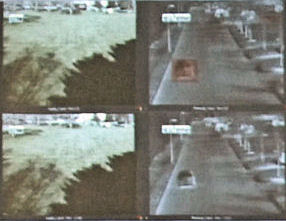 A Princeton-based company, SightLogix, Inc., has a better idea -- taking advantage of the relentless miniaturization of technology to move the intelligence into the cameras themselves. The camera then does the processing locally, taking advantage of all the detail available in the camera, and then requires only a low-bandwidth, even wireless, connection to report alerts. As a result, cameras can be deployed quickly around a site, and even run stand-alone with solar power.
Full article: SightLogix: Intelligent Video Surveillance, the smart way